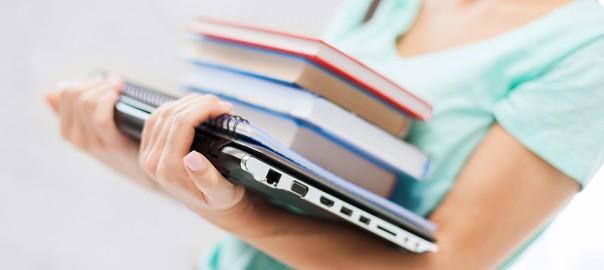 The Cost of College Books
Yes, college tuition is getting more and more expensive. There is certainly no doubt about that. It's also holding many people back from getting into school because the question of whether or not it's actually worth the cost of tuition is becoming a very serious concern.
It's been reported, however, that having a college degree does actually pay off. In 2015-2016, colleges and universities will award 952,000 associate's degrees, 1.8 million bachelor's degrees, 802,000 master's degrees, and 179,000 doctor's degrees. There is another cost that shouldn't be ignored, one that often falls off people's radars — books. 
The College Board estimates that the "average student in this country spends around $1,200 a year on books and supplies." In addition, a single book can cost as much as $200. These prices aren't exceptions. These are real numbers that relate to the average college course. The hike is prices is growing. In between 2002 and 2013, the cost of college books rose 82%, which is three times the rate of inflation. If that isn't alarming, you should know that there has been an 812% rise in the cost of course materials since 1978.
The real question then becomes what is a student to do in these sorts of situations? The amount of money that is required of them for their course materials can easily be in the thousands. That's where an online personal loan can provide assistance.
OnlinePersonalLoans.com offers no-collateral personal loans within the range of $15,000. This means you aren't putting up any property or assets. The process of registering is simple because you can register online from your computer or smartphone.
There are many who don't want to spend all this money out of pocket. They need another way of covering these expenses. OnlinePersonalLoans.com offers a helping hand by offering personal loans. In fact, you have numerous search options, which means you can connect with a lender directly and speak with them on the phone or you can comparison shop lenders. In short, it's all made easy so you can be on your way and receive the funding that you need. In addition, your financing is made flexible, so you can spend your money on whatever is important to you, so whether that's college expenses or another sort of purchase you need, an online personal loan can help you and your situation.
Please use personal loans responsibly. These loans shouldn't be used for paying regular bills.
Citations:
US News: http://www.usnews.com/education/best-colleges/articles/2011/08/05/how-higher-education-affects-lifetime-salary
National Center for Education Statistics: http://nces.ed.gov/programs/digest/d14/tables/dt14_318.10.asp
USA TODAY: http://www.usatoday.com/story/money/personalfinance/2014/02/02/cnbc-college-textbooks-expensive/5038807/
The Atlantic: http://www.theatlantic.com/business/archive/2013/01/why-are-college-textbooks-so-absurdly-expensive/266801/
Material Disclosure: This content is for informational purposes only. OnlinePersonalLoans.com does not represent or endorse the accuracy or reliability of any of the information, content or advertisements contained on, distributed through, or linked, downloaded or accessed from any of the services contained on this website, nor the quality of any products, information or other materials displayed, purchased, or obtained by you as a result of reading and using this site. OnlinePersonalLoans.com may temporarily remove or delete what appears to be potentially unlawful content or content otherwise prohibited under this policy. Please consult your legal counsel before relying or acting on any information provided on this or any third party website. OnlinePersonalLoans.com is a marketing lead generator and DOES NOT take loan applications, originate, service, make loans or credit decisions in connection with loans, nor does OnlinePersonalLoans.com issue commitments or lock-in agreements. You should ask your lender if you have any questions or concerns about your loan or loan options.
[yasr_visitor_votes size="large"]