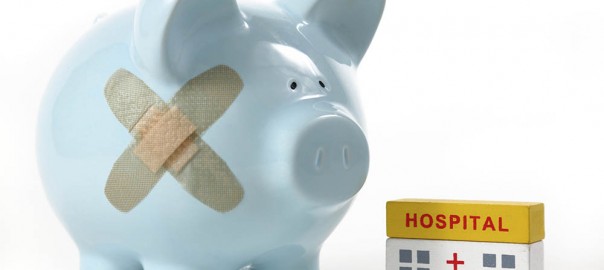 Online Personal Loans for Medical Expenses
There is nothing more important than our health.
In fact, we will spend a significant portion of our lives in hospitals — whether it's for joyous events such as a childbirth or for serious reasons such as surgery. In both cases, and everything in between, there are costs associated with all of these situations. So, if you think medical expenses come at the most opportune times, think again.
In 2012, more than one in four families experienced financial burdens of medical care. If you look into the numbers of what the cost of an overnight stay in a hospital is, you will be provided with a first-hand look into the growing costs of healthcare. This doesn't include actual medical expenses, such as procedures, services and tests.
If you consider how expensive these costs are, you may want to consider registering for an online personal loan as a way of paying for your medical expenses. There are many people who spend their lives saving for emergencies. These people sometimes don't want to immediately spend all that money on huge expenses. This is one of the ways in which an online personal loan can be beneficial. It'll provide you with additional funding, so you can focus on other matters.
Medical Expense Loan
The way online personal loans work is very simple. They are no-collateral loans, which means you are not putting up property or assets. These online personal loans can be used for a variety of reasons and come with a great deal of flexibility.
In this sense, online personal loans aren't just for major expenses. They can also be used for large purchases or vacations that you want to take.
Please use personal loans responsibly. These loans shouldn't be used for paying regular bills.
Citations:
CDC: http://www.cdc.gov/nchs/data/databriefs/db142.htm
Material Disclosure: This content is for informational purposes only. OnlinePersonalLoans.com does not represent or endorse the accuracy or reliability of any of the information, content or advertisements contained on, distributed through, or linked, downloaded or accessed from any of the services contained on this website, nor the quality of any products, information or other materials displayed, purchased, or obtained by you as a result of reading and using this site. OnlinePersonalLoans.com may temporarily remove or delete what appears to be potentially unlawful content or content otherwise prohibited under this policy. Please consult your legal counsel before relying or acting on any information provided on this or any third party website. OnlinePersonalLoans.com is a marketing lead generator and DOES NOT take loan applications, originate, service, make loans or credit decisions in connection with loans, nor does OnlinePersonalLoans.com issue commitments or lock-in agreements. You should ask your lender if you have any questions or concerns about your loan or loan options.
[yasr_visitor_votes size="large"]