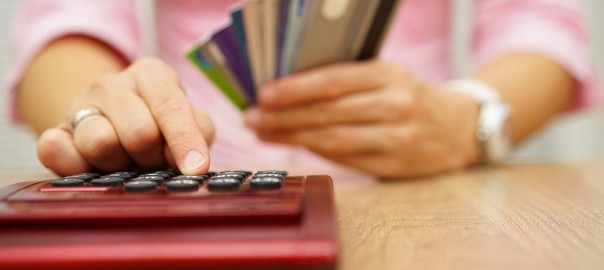 Online Personal Loans for Debt Consolidation
Did you know that the average person carries $4,717 of credit card debt?
We are all familiar with credit card debt and its vicious cycle. The number of household debt in the United States has jumped 15% faster than income over the past two decades. The stress that this creates for families is unparalleled. There is no burden like credit card debt, but the fact is everyone carries some of their own.
CreditCards.com reports that the average credit card's interest rate is 15%. This means that with minimum payments, you will spend an entire decade paying off your average of $4,717. In total, you'd have paid $22,869. That's a hefty fee for a small amount of debt in the first place.
The credit card debt that we carry is very concerning. It's prevalent all across the nation, although it's higher in some states than others (Alaska, for instance, tops the list of average credit card debt at a little under $9,000). The data suggests, however, that the numbers don't change much over the course of time. In other words, this is a consistent issue. There is and always will be credit card debt regardless of any economic situation.
What are your options as a consumer? There are many ways in which consumers deal with their credit card debt. The goal is getting your total debt onto a low-interest credit card, so you aren't paying huge sums of money on interest charges.
There are other options as well, such as online personal loans. They are no-collateral personal loans within the range of $15,000. This means you aren't putting up any property or assets when getting your loan. In addition, your financing can be used for a variety of reasons, whether it's debt consolidation or going on a vacation. The financing you receive is flexible in terms of its use.
OnlinePersonalLoans.com connect consumers with lenders. The application form takes a few minutes. We take that information and connect the consumer with a lender. We also have the option of connecting with a lender directly. So, if you don't want to provide your personal information online, you can speak with a lender over the phone.
It's important to know that you have options. In other words, you should always do your research and find the best option for you as a consumer.
Please use personal loans responsibly. These loans shouldn't be used for paying regular bills.
Citations:
Time: http://time.com/money/4213757/average-american-credit-card-debt/
Time: http://time.com/money/4138675/americans-credit-card-debt-nerdwallet/
Bankrate: http://www.bankrate.com/finance/credit-cards/states-with-most-credit-card-debt-2.aspx
Material Disclosure: This content is for informational purposes only. OnlinePersonalLoans.com does not represent or endorse the accuracy or reliability of any of the information, content or advertisements contained on, distributed through, or linked, downloaded or accessed from any of the services contained on this website, nor the quality of any products, information or other materials displayed, purchased, or obtained by you as a result of reading and using this site. OnlinePersonalLoans.com may temporarily remove or delete what appears to be potentially unlawful content or content otherwise prohibited under this policy. Please consult your legal counsel before relying or acting on any information provided on this or any third party website. OnlinePersonalLoans.com is a marketing lead generator and DOES NOT take loan applications, originate, service, make loans or credit decisions in connection with loans, nor does OnlinePersonalLoans.com issue commitments or lock-in agreements. You should ask your lender if you have any questions or concerns about your loan or loan options.