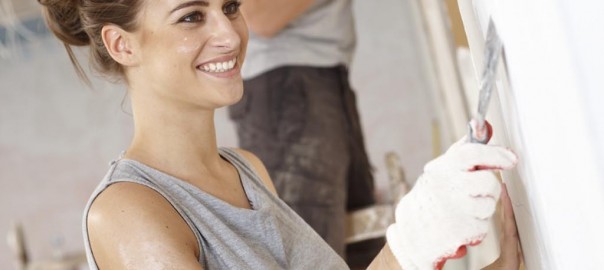 Making Home Improvements Using Personal Loans
There's no place like home.
The feeling of comfort that you have once you walk inside your home is unparalleled. There's a sense of ease being in your own space, and that's because, quite simply, your home offers a level of familiarity that you can't find anywhere else.
There are many people, however, who love their home but have been thinking of making home improvements or repairs. In fact, 85% of the nation's homes were constructed before 1980 and require upkeep and maintenance.
If you consider general damages that happen naturally over the years, such as normal wear or aging, you can see why repairs are eventually necessary. There are many people who are on the fence regarding home improvements. They really love the idea of a restored home, but the financial aspects hold them back.
This is where an online personal loan can help. The advantages of an online personal loan are plentiful. They can offer you with additional funding so that you can finally work on your home repairs and improvements without spending money that you have saved up for the years. The way that they work is quite simple. They can be registered for online, so the process of applying is incredibly easy and takes a few minutes. They are also flexible, which means you can use them for a variety of reasons.
There are various benefits of home improvements, which include increasing resale value on your home and increasing space within your home. This will obviously vary for each individual and their home, but oftentimes, many people feel that their house is cramped and in need of home improvements as a way of maximizing space. In this sense, increasing space within your home with expansions or room additions, helps make your home feel larger, lighter and more accessible. This also adds to the comfort of your home. The extra space can be used for entertaining more family and friends or for your own pleasure. In addition, in certain instances, remodeling your home and making improvements adds value to the home itself. This is another reason why many people will use an easy online personal loan for making home improvements.
There are quick and easy personal loans available for you. These are no-collateral loans, which means you aren't putting up any property or assets.
Please use personal loans responsibly. These loans shouldn't be used for paying regular bills.
Citations:
Visually: http://visual.ly/interesting-10-facts-and-statistics-about-home-improvement-industry
Master Cleaning: http://mastercleaning.org/what-are-the-benefits-of-home-improvements/
Material Disclosure: This content is for informational purposes only. OnlinePersonalLoans.com does not represent or endorse the accuracy or reliability of any of the information, content or advertisements contained on, distributed through, or linked, downloaded or accessed from any of the services contained on this website, nor the quality of any products, information or other materials displayed, purchased, or obtained by you as a result of reading and using this site. OnlinePersonalLoans.com may temporarily remove or delete what appears to be potentially unlawful content or content otherwise prohibited under this policy. Please consult your legal counsel before relying or acting on any information provided on this or any third party website. OnlinePersonalLoans.com is a marketing lead generator and DOES NOT take loan applications, originate, service, make loans or credit decisions in connection with loans, nor does OnlinePersonalLoans.com issue commitments or lock-in agreements. You should ask your lender if you have any questions or concerns about your loan or loan options.
[yasr_visitor_votes size="large"]