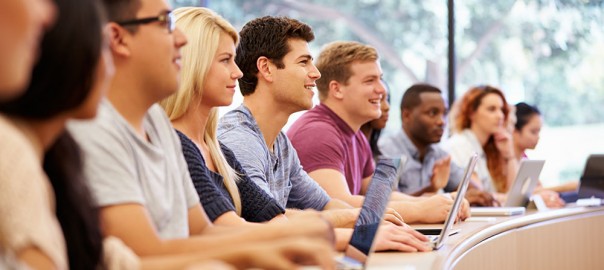 How Much Does College Cost?
We all know how important college is. In many cases, a college education opens many doors and provides people with a significant amount of opportunities in life.
Most people already know that going to college is important; it opens many doors and provides many advantages and opportunities. We've seen how college graduates can earn a significant amount more than high school graduates. 
We are all also aware how expensive college can be. The conversation of whether the cost is worth it is one that can definitely be had, but the more important question is, how much does college cost? What are some of the costs that you may be underestimating? How can you pay for college and all of the fees associated with it?
If you have been doing the numbers, you may have realized that the true cost of college is much more difficult to predict than you may have previously imagined. There are certain set fees, such as tuition costs, but there are also a number of additional college expenses you may overlooked.
Books and Supplies
This may scare you off, but the average annual cost of books for a college student is approximately $1,000. That's a lot of money for books that you'll only use for one semester and likely never again. It's also a cost that will likely rise as you find yourself taking more rigorous courses. So, how expensive can books be in college? Very. That's nearly $4,000 during your time in college, a significant amount of money that you may have disregarded.
What about the rest of your school supplies, including lab fees and computers? There likely isn't a single student without a laptop in college, which has become a necessity in this day and age. These costs can and will balloon up and you should be mindful about them.
Room and Board
There's more than the cost of housing that you should know about. There's general apartment costs, water, electricity/gas, and the cost of food you'll be spending per semester/year. It's important to think of the variety of things that you may need during your time away.
Transportation
If you haven't considered transportation costs, such as maintaining a car you may have with you, that's something that can definitely add up. In fact, parking permits in college parking lots can cost as much as $300 per semester. This may be something that you didn't even know, so you may have ignored this cost altogether!
Personal Costs
There is and will always be a need for extra cash on hand that you simply can't account for. There will be a need for money for personal expenses. This is something you can't put a price tag on, but it's absolutely necessary for any college student.
Online Personal Loans
The benefit of an online personal loan is that they provide you with additional funding, which is ideal for paying for these types of college costs. They are flexible and the financing can be used for virtually anything. They are no-collateral loans that range within $15,000.
That's money that can go a long way when you consider how expensive college can be. The fact that they are no-collateral loans means you aren't putting up any property or assets as a way of obtaining the loans. That's easy for a college student, getting the financing that they need for their education.
Please use personal loans responsibly. These loans shouldn't be used for paying regular bills.
Citations:
The Heritage Foundation: http://www.familyfacts.org/charts/571/college-graduates-earn-nearly-twice-as-much-as-high-school-graduates
Time: http://healthland.time.com/2012/11/16/the-13-hidden-college-expenses/
Material Disclosure: This content is for informational purposes only. OnlinePersonalLoans.com does not represent or endorse the accuracy or reliability of any of the information, content or advertisements contained on, distributed through, or linked, downloaded or accessed from any of the services contained on this website, nor the quality of any products, information or other materials displayed, purchased, or obtained by you as a result of reading and using this site. OnlinePersonalLoans.com may temporarily remove or delete what appears to be potentially unlawful content or content otherwise prohibited under this policy. Please consult your legal counsel before relying or acting on any information provided on this or any third party website. OnlinePersonalLoans.com is a marketing lead generator and DOES NOT take loan applications, originate, service, make loans or credit decisions in connection with loans, nor does OnlinePersonalLoans.com issue commitments or lock-in agreements. You should ask your lender if you have any questions or concerns about your loan or loan options.